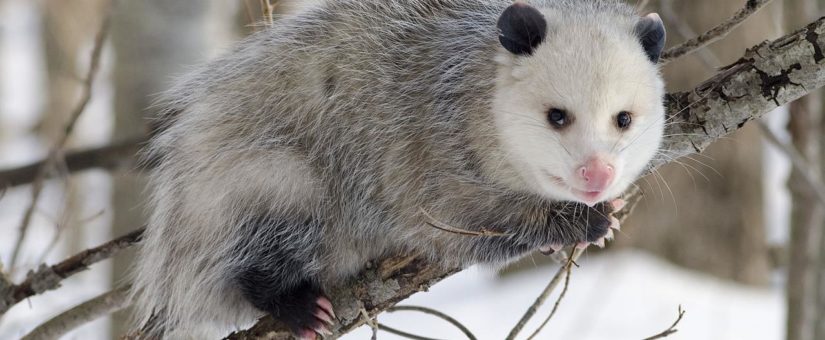 Posted by Lance
On December 11, 2016
0 Comments
Is there something sneaking around outside your home at night? It may be an opossum. There are a few ways you can identify them even if you don't necessarily get the best look at the culprit.
Footprints – The next morning, or with a flashlight if you really are curious, check the area where you saw the animal. If there is dirt or snow there, you may see its tracks. An opossum track is about two inches long and has five toes that are spread out, sometimes compared to a maple leaf.

Fur – The opossum has a thick, grey coat with some white and black in certain areas. The paws are often black, as are their ears.

Scavenger – If this animal takes an interest in your trash it may be an opossum. Opossum's love to dig through garbage or to eat from pet dishes left outside. They will also scavenge from dead animal carcasses.

Playing dead – Opossums have a rare behavior among animals of playing dead when they feel they are in danger. If a larger animal, like your dog maybe, intimidates the opossum, it may fall over and pretend to be dead. Many predators don't eat dead animals if they can help it, so playing dead has saved many an opossum.

Climbing – If the animal is seen going up a tree or is seen in a tree it could also be an opossum. They love to climb and may access your yard by climbing climbing the fence or using branches.

Digging – Some complain of damage done to their yards by opossums. If you notice small holes dug in the area, it may be an opossum. They want to get to grubs and other insects so they dig shallow holes in the dirt. They are not too deep but can still disturb the lawn.

Size – The average adult opossum is around two-and-a-half feet long and a little over ten pounds – a little larger than a house cat.

Snout and tail – The opossum has a distinct snout and tail. The snout is long and opens up to a very wide mouth with razor sharp teeth. Its tail is long and can be used to hold onto limbs as they hang upside down from trees.
If the night prowler is identified by more than a few of these items above, then you're likely dealing with an opossum. They are not dangerous but can be a nuisance, especially around your trash, animal dishes and by digging holes in your lawn. An opossum can look pretty gross, like a giant, overweight, trash-eating rat. But they are thankfully mostly harmless. Rats and opossums are actually not even related even though many assume opossums are rodents. In reality, opossums are not rodents but are the only North American member of the marsupial family.
No matter what they are, if you identify one on your property and don't want it around, give us a call. Critter Control of the Triangle is experienced in tracking and removing pests of all kinds.