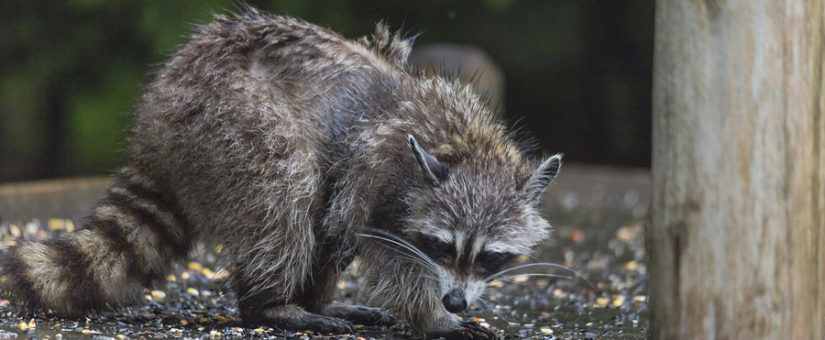 Posted by Lance
On November 24, 2016
0 Comments
Every night as you lay down to sleep, nature's night shift begins. A whole separate cast of critters is just waking up to get their day (or night) started. These include owls, bats, flying squirrels (yes we have those in North Carolina) and two neighborhood trouble-makers – raccoons and opossums. These two often have a strained relationship because of their similar behavior and habits.
First, we have opossums here in Raleigh/Durham area, not possums. Possums are also a marsupial but they are a separate species and live in Australia. Raccoons on the other hand are not related to either but are more closely related to bears. They may not be related but they do fight like siblings.Conflicts generally arise over territorial claims on food sources. By food sources, this often means stuff they find around our homes.
While we sleep peacefully, a battle often rages outside for things we just toss aside. Trash cans are the most common of these food opportunities. If you leave the lid off your trash can, you can bet both of these species see your property as a popular nightlife establishment. When they knock the can over things can get messy but sometimes they're able to just hop in, eat their fill and jump back out.
Another draw for raccoons and opossums is pet food dishes. People who have outdoor pets or who have doggy doors, often don't consider what other animals may be attracted to this container of food simply laying on the ground. Here is a raccoon and opossum squaring off over a pet dish on someone's porch. Apparently the person didn't care enough to scare them off but just filmed instead.
As you can see from the video, raccoons have the definite edge. The opossum has an intimidating defense mechanism of opening its mouth VERY wide and showing its teeth. This can make the raccoon slow down and try to get around it, but in the end raccoons are too big and clever for the opossums. Truth be told, opossums are pretty gentle creatures who just look like giant rats so people are disgusted and afraid of them.
Raccoons win the battle over your food at night but both animals generally have plenty to eat because people do not take the proper precautions. Some quick tips to keep these critters away are to keep the lid secured on your trash can, keep animal food inside at night and if you have a compost pile, make sure it is secured enough to not just become a giant pest magnet. If you have trouble with raccoons or opossums anyway, please contact your local pest control company to have them removed safely.
For help with mice or rodents Call Critter Control of the Triangle in Raleigh, NC and Durham at 919.382.0651 or our contact page for more information or help with animal removal, cleanup and more.